Premier League
Football News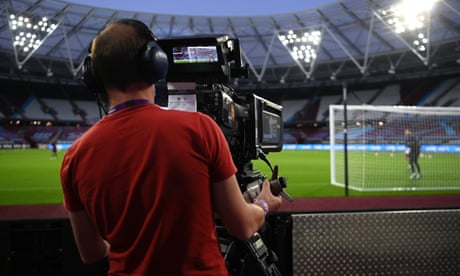 Premier League
Sep 23, 2020
All Premier League games in October likely to be shown live on TV
Restrictions on fans in grounds leads to change of planGames in September...
Football
Sep 23, 2020
Frank Lampard believes Premier League will come to aid of EFL clubs
Chelsea pay for Covid tests for Carabao opponents Barnsley'It's...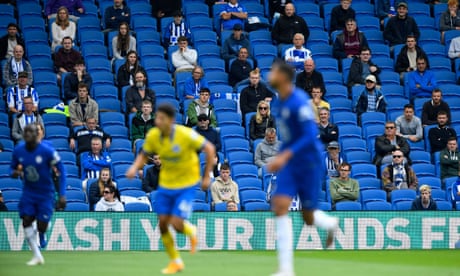 Sport
Sep 23, 2020
Sport left to sweat on rescue from a half-listening government | Sean Ingle
There is anger that sports have jumped through hoops to make stadiums safe...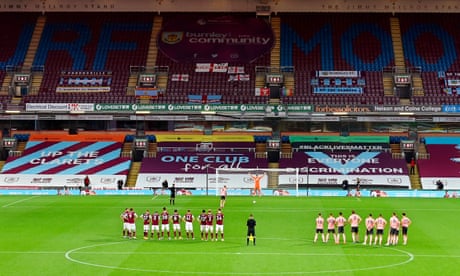 Sport
Sep 22, 2020
UK government ready to rescue up to eight sports facing financial black hole
Bailout needed because of delay to return of fansMatchday revenue crucial...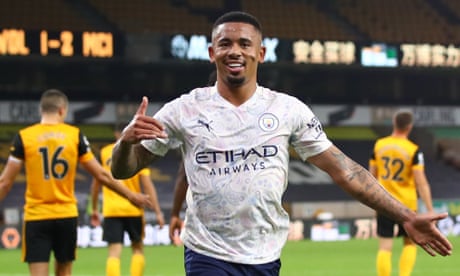 Premier League
Sep 22, 2020
Wolves 1-3 Manchester City: Premier League – as it happened
Manchester City were outstanding in the first half and got their season...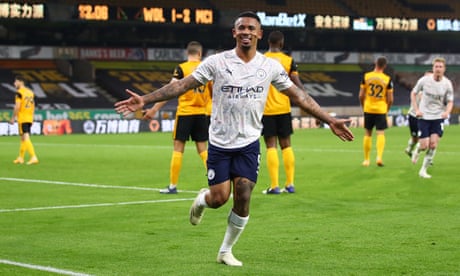 Premier League
Sep 22, 2020
Gabriel Jesus ensures Manchester City start with a win despite Wolves rally
On a gripping night at Molineux Manchester City were, by turns, brilliant...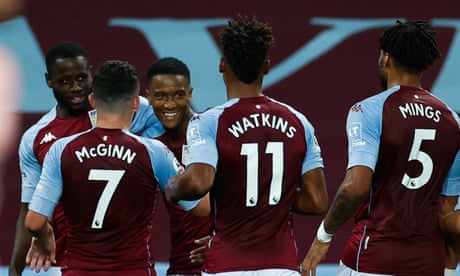 Premier League
Sep 22, 2020
Villa's Ezri Konsa grabs win after 10-man Sheffield United pay the penalty
Last time it was a glitch in goalline technology that vexed Sheffield...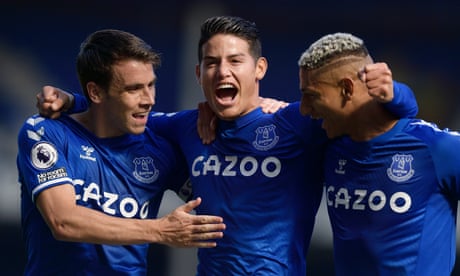 Football
Sep 21, 2020
Goals galore in the Premier League – Football Weekly
Max Rushden and co discuss a goal-rich weekend, how to interview Samuel...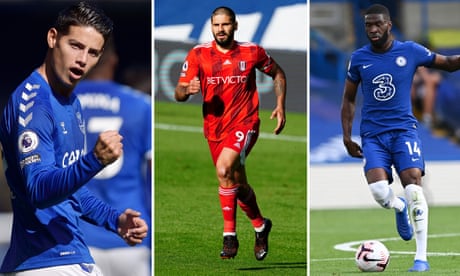 Premier League
Sep 21, 2020
Premier League: 10 talking points from the weekend's action
Chelsea's youngsters are back on the sidelines, former Blues defender...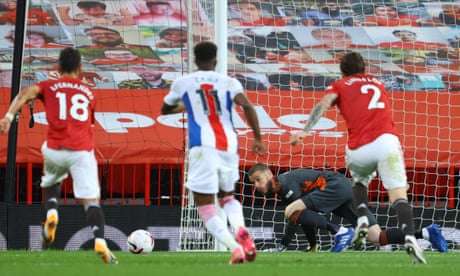 Video assistant referees (VARs)
Sep 21, 2020
VAR is getting it right despite football's wider mood of suspicion and distrust | Sean Ingle
New studies have revealed that the accuracy of 'match-changing...
Premier League Table
| P | Team | GP | W | D | L | F | A | Pts |
| --- | --- | --- | --- | --- | --- | --- | --- | --- |
| 1 | Leicester City FC | 2 | 2 | 0 | 0 | 7 | 2 | 6 |
| 2 | Everton FC | 2 | 2 | 0 | 0 | 6 | 2 | 6 |
| 3 | Arsenal FC | 2 | 2 | 0 | 0 | 5 | 1 | 6 |
| 4 | Liverpool FC | 2 | 2 | 0 | 0 | 6 | 3 | 6 |
| 5 | Crystal Palace FC | 2 | 2 | 0 | 0 | 4 | 1 | 6 |
| 6 | Tottenham Hotspur FC | 2 | 1 | 0 | 1 | 5 | 3 | 3 |
| 7 | Manchester City FC | 1 | 1 | 0 | 0 | 3 | 1 | 3 |
| 8 | Brighton & Hove Albion FC | 2 | 1 | 0 | 1 | 4 | 3 | 3 |
| 9 | Aston Villa FC | 1 | 1 | 0 | 0 | 1 | 0 | 3 |
| 10 | Leeds United FC | 2 | 1 | 0 | 1 | 7 | 7 | 3 |
| 11 | Wolverhampton Wanderers FC | 2 | 1 | 0 | 1 | 3 | 3 | 3 |
| 12 | Chelsea FC | 2 | 1 | 0 | 1 | 3 | 3 | 3 |
| 13 | Newcastle United FC | 2 | 1 | 0 | 1 | 2 | 3 | 3 |
| 14 | Burnley FC | 1 | 0 | 0 | 1 | 2 | 4 | 0 |
| 15 | Manchester United FC | 1 | 0 | 0 | 1 | 1 | 3 | 0 |
| 16 | West Ham United FC | 2 | 0 | 0 | 2 | 1 | 4 | 0 |
| 17 | Sheffield United FC | 2 | 0 | 0 | 2 | 0 | 3 | 0 |
| 18 | Fulham FC | 2 | 0 | 0 | 2 | 3 | 7 | 0 |
| 19 | Southampton FC | 2 | 0 | 0 | 2 | 2 | 6 | 0 |
| 20 | West Bromwich Albion FC | 2 | 0 | 0 | 2 | 2 | 8 | 0 |