La Liga
Football News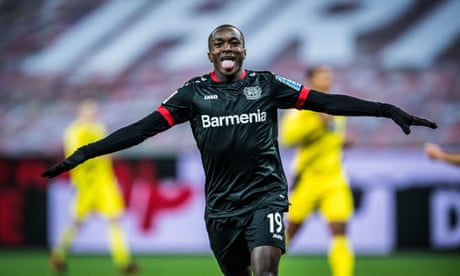 Bundesliga
Jan 20, 2021
European roundup: Diaby terrorises Dortmund to end Leverkusen slump
French winger dazzles as 2-1 win lifts Leverkusen to secondBono's...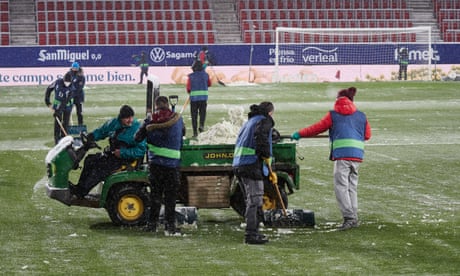 La Liga
Jan 12, 2021
Real Madrid freeze at Osasuna as snow brings much of Spain to a halt | Sid Lowe
An icy flight across Spain was in vain for Madrid as they were held in...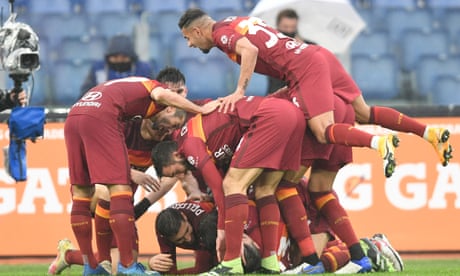 European club football
Jan 11, 2021
European roundup: Conte anger at Inter's late slip, Dembélé set for Atlético
Mancini scored late on for Roma to make it 2-2Dembélé asks to leave Lyon...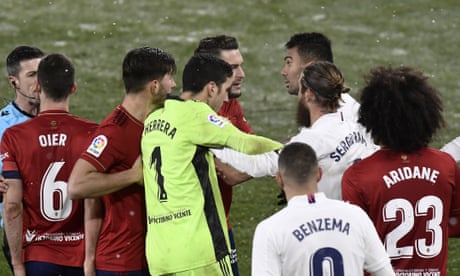 European club football
Jan 10, 2021
European roundup: Real Madrid slip up in snow after Barça thrash Granada
Barcelona claim third successive win for first time this seasonReal Madrid...
Barcelona
Jan 07, 2021
Lionel Messi double boosts Barcelona as Pochettino begins PSG reign with draw
Barça win 3-2 in Bilbao, Atlético crash out of Copa del ReyPSG held by...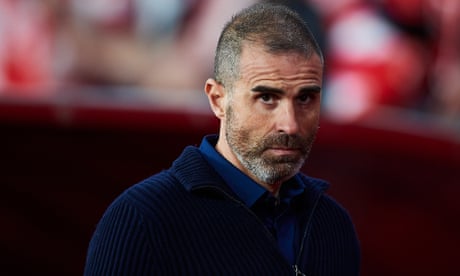 Athletic Bilbao
Jan 04, 2021
Time runs out for Garitano at Athletic Bilbao despite winning latest 'final' | Sid Lowe
Gaizka Garitano was dismissed despite victory over Elche, but if the...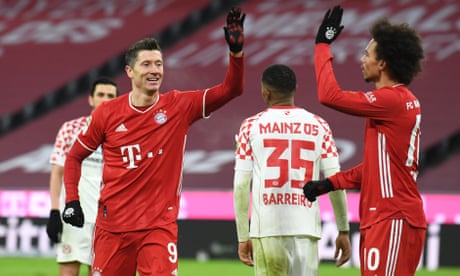 European club football
Jan 04, 2021
European roundup: Bayern hit back to beat Mainz while 10-man Milan stay top
Athletic Bilbao sack Gaizka Garitano after win against ElcheMartínez...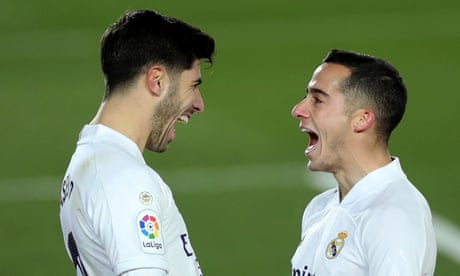 Football
Jan 03, 2021
Real Madrid retake top spot in La Liga while Leipzig hit Bundesliga summit
Vázquez and Asensio seal 2-0 win over Celta VigoLeipzig win, Leverkusen...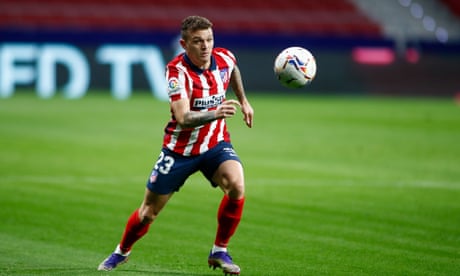 Atlético Madrid
Jan 03, 2021
Kieran Trippier's betting ban for breaching FA rules suspended by Fifa
England full-back's 10-week ban on hold pending appealTrippier now...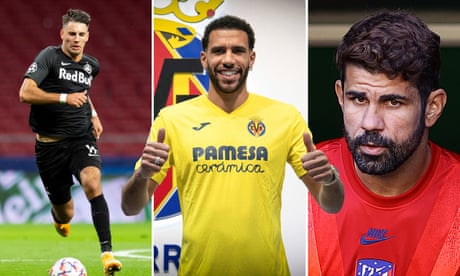 Transfer window
Jan 01, 2021
Men's transfer window January 2021 – all deals from Europe's top five leagues
All the winter window's Premier League, La Liga, Bundesliga, Ligue 1 and...
La Liga Table
| P | Team | GP | W | D | L | F | A | Pts |
| --- | --- | --- | --- | --- | --- | --- | --- | --- |
| 1 | Club Atlético de Madrid | 16 | 13 | 2 | 1 | 31 | 6 | 41 |
| 2 | Real Madrid CF | 18 | 11 | 4 | 3 | 30 | 15 | 37 |
| 3 | FC Barcelona | 18 | 10 | 4 | 4 | 37 | 17 | 34 |
| 4 | Sevilla FC | 18 | 10 | 3 | 5 | 23 | 16 | 33 |
| 5 | Villarreal CF | 18 | 8 | 8 | 2 | 26 | 17 | 32 |
| 6 | Real Sociedad de Fútbol | 19 | 8 | 6 | 5 | 29 | 16 | 30 |
| 7 | Granada CF | 18 | 8 | 3 | 7 | 21 | 29 | 27 |
| 8 | Cádiz CF | 19 | 6 | 6 | 7 | 17 | 24 | 24 |
| 9 | RC Celta de Vigo | 18 | 6 | 5 | 7 | 22 | 28 | 23 |
| 10 | Real Betis Balompié | 18 | 7 | 2 | 9 | 22 | 31 | 23 |
| 11 | Levante UD | 18 | 5 | 7 | 6 | 25 | 26 | 22 |
| 12 | Athletic Club | 18 | 6 | 3 | 9 | 21 | 22 | 21 |
| 13 | Getafe CF | 17 | 5 | 5 | 7 | 15 | 18 | 20 |
| 14 | Valencia CF | 18 | 4 | 7 | 7 | 24 | 25 | 19 |
| 15 | SD Eibar | 18 | 4 | 7 | 7 | 15 | 18 | 19 |
| 16 | Real Valladolid CF | 19 | 4 | 7 | 8 | 18 | 27 | 19 |
| 17 | Deportivo Alavés | 19 | 4 | 6 | 9 | 17 | 25 | 18 |
| 18 | Elche CF | 17 | 3 | 8 | 6 | 16 | 23 | 17 |
| 19 | CA Osasuna | 18 | 3 | 6 | 9 | 15 | 27 | 15 |
| 20 | SD Huesca | 18 | 1 | 9 | 8 | 14 | 28 | 12 |